Special Events : Corporate Events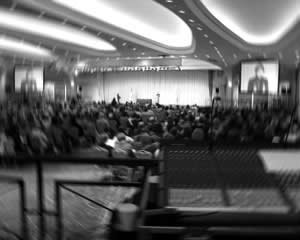 AV rental, full event production services, equipment leasing, and our innovative GearPool program... MEGA Event Production takes care of all your corporate event needs. Our talented corporate event production and management team specializes in creating both large and intimate branded events of all kinds. Whether you are hosting your event locally, domestically or globally, we will produce your meeting, conference, awards ceremony and employee event at any scale with the highest level of attention and detail.
AV Rental: When it comes to AV rental, we've got the competition beat hands down! We offer a full range of the latest model equipment including projectors, displays, speakers, mixers, wireless microphones, video cameras, and a full range of lighting effects. From one day rentals to long term rental contracts, we offer it all.
We have a number of packages specially suited for corporate AV needs including our Small Conference Packages, or you can request a free quote for specific needs.
Event Production: As a full service rental and production company, Mega Event Production is your one stop shop for corporate events. From full event production and management to consulting and staffing assistance, we have years of experience with corporate meetings, award shows, formal dinners, concerts, product launches, and special events.
We work with you to develop memorable occasions for your company from design to implementation that will thrill your audience and easily achieve your event goals. We can produce themed interactive events such as game shows, 'Oscar' ceremonies, holiday parties, and more... all within your time-frame and budget. Take a look at our Event Production page to see all the services we offer in this area.
Equipment Leasing: With our equipment leasing options and our exclusive GearPool program, you can be sure to get the best value and maximize return on all your AV equipment.
GearPool puts your infrequently used production equipment to use in a brand new way, giving you ongoing credit towards renting ANY equipment in our catalogue, ensuring the gear is always in prime condition, and keeping it available for you to use when you need it. Take a look at how this new system works on our Equipment Leasing page.
Ready To Book Your Corporate Event With Us?

Complete our FREE Quote Form to receive a fast, free, no obligation quote. Once your quote is generated, we will hold your requested date for 7 days.